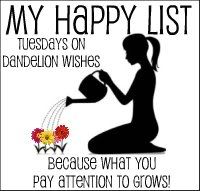 I am happy because my internet is finally working again! woo hoo!! Only been down for a month!
I am happy to announce that I have decided to take a job. I have been so torn over this because I love being a stay at home mom and taking care of my boys, but I also felt like things were lacking. Although I planned on staying home through the summer, an awesome opportunity presented itself and I couldn't pass it up! Hoping I am doing the right thing here...
I am happy that I have awesome family that supports me when I need it!
I am just all around happy!